In Colgate Magik, children are adventurers who travel in imaginary worlds to defeat the cavity monsters.
Before you begin
Colgate Magik uses augmented reality to analyze the way your child is brushing, always pay attention to your surroundings while brushing.
For a better experience, make sure your device has the minimal system requirements, and is safely placed.
Starting the game
You can start the Colgate Magik game by choosing a world after tapping the Play Button.
At start, place your head in the circle, the app should be able to see your face entirely and clearly.
The play screen is divided in two parts: the upper part of the screen displays the image captured by the front camera, the lower part of the screen displays the 3D jaws and the cavity monsters to be brushed away.
Your children will be guided to brush 16 zones. When the game starts, the active zone you have to brush will be highlighted and you will see a cavity monster. The application identifies the Magik toothbrush connector and your face to detect whether you properly brush the right zone, and provides suggestions on the brushing technique.
Brush to defeat the monster!
When you brush too fast, a turtle will show up to guide you to brush slower. Alternatively, if you're brushing too slow, a rabbit will appear to direct you to speed up.
There will be continuous toothpaste bubbles generated as you brush to defeat the cavity monster. The better you follow the instructions, the more diamonds you will earn!
If you're having trouble making bubbles, try following these instructions.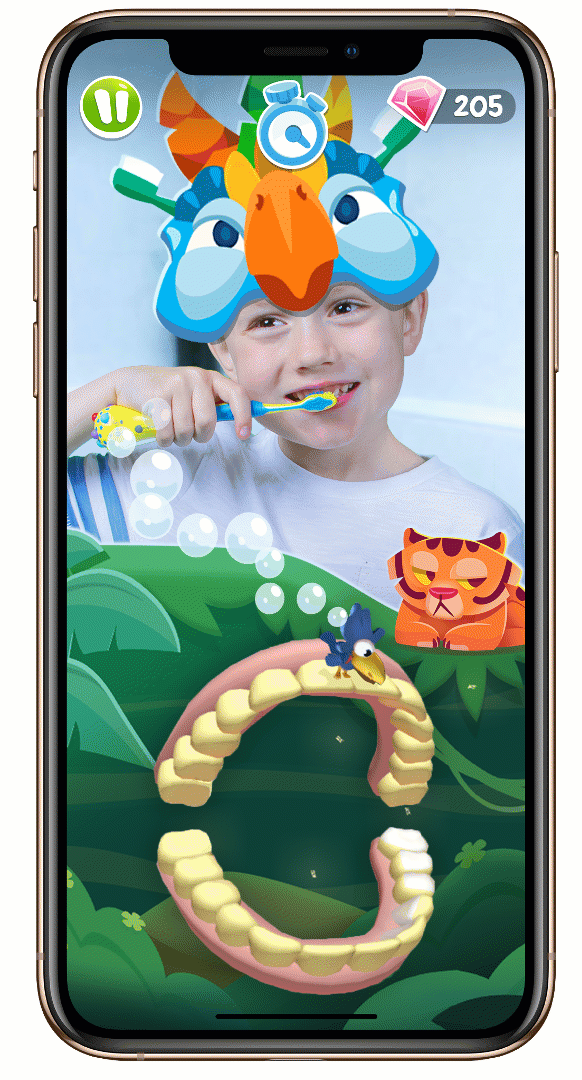 Pausing the brushing session
At any time during your brushing session, you can pause the game by pressing the pause button on the top left.
Remaining time
The brushing duration is set for two minutes, following the dental professional recommendation. The clock indicates how much time is left in the two minutes.
End of the Brushing Session and Rewards
At the end of brushing, there is an animation to remind you to brush your tongue and rinse your brush.
Once you're done with your brushing session, it will be the time for rewards, gifts and smile sharing. Based on your brushing results, you will be able to see the stars you gained and monsters defeated. The number of stars you can win is decided by the number of diamonds you got from the brushing session.
At the end of the brushing session, three gift boxes will appear and you will be able to pick one.The gifts can contain extra diamonds or masks. Good luck!