The Colgate® Connect M1 is designed to deliver an experience that is simple and easy to use. All batteries are consumables and have a limited lifespan—eventually their capacity and performance decline so that they need to be replaced. That's why it's possible to replace the battery of your toothbrush yourself.
Before Replacing the Battery
The Colgate® Connect M1 is designed to save energy. The status light (LED) indicates when the battery needs to be replaced but also the information about the brush in the settings of the Colgate® Connect app.
If, when you place the battery in the battery compartment the status lights blink red, it's necessary to replace it.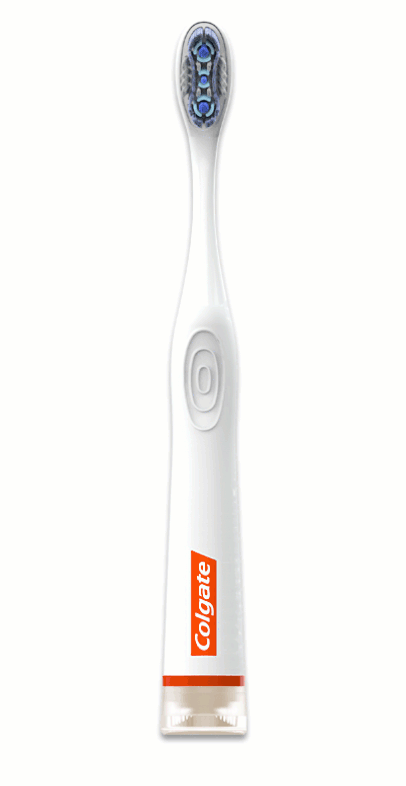 Replacing the Battery
To replace the battery of your toothbrush, follow these steps:
Hold the toothbrush, with the head oriented to the ground.

Find the battery compartment on the base of the toothbrush.

Unscrew the toothbrush base, turning it reverse-clockwise.

Pull out the base.

Remove the old battery, lifting it from the positive side.

Place a new battery, placing the positive side upward.

Follow these steps in reverse order to re-assembly the toothbrush. The base is properly screwed when the logo on the base is opposed to the logo of the handle.
Recycling the Battery
Throwing batteries in the bin can seriously impact our environment. You have the possibility to recycle your batteries using dedicated collecting points (available in most electronic stores and supermarkets).
Choosing a Battery
The Colgate® Connect M1 works with a LR03 (or AAA) battery. The battery included in the starter pack or the refill pack is an alkaline Energizer. You can, if you want to, use another brand of battery.